REPAIR COLLARS, COUPLINGS, SPECIAL PIECES AND TAILOR MADE SOLUTIONS FOR PIPELINES
"IF YOU START DEALING WITH WATER,
FIRST CONSULT EXPERIENCE AND THEN REASON"
LEONARDO DA VINCI
THE HIGHLY FLEXIBILE UNIVERSAL COUPLING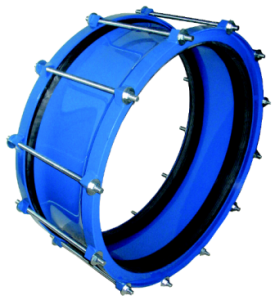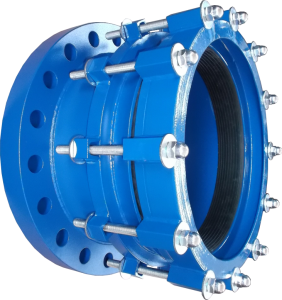 Description
General overview
Super Hydro is the carbon steel fabricated universal coupling designed to connect pipes made of different materials and with a different OD.
Thanks to its peculiarly shaped sealing gasket this coupling is capable to provide 30 mm (up to DN450) or 40 mm (from DN500 onwards) of tolerance on the OD of the pipes. This means that in many cases it can avoid the need for a wide range adaptor, that is bigger and way more expensive.
Super Hydro is available as standard flexible coupling, wide range adaptor (or stepped coupling, suitable on pipes whose OD difference is in excess of 40 mm) and flange adaptor.
It comes PN 16 as standard but can be also designed for higher PN (25, 40, etc.).
It is fully customizable on request for ranges other that the standard ones, as well as for sleeve size. It can be also integrated in the special pieces such as TEE, bends, hydrants, etc.
It is available also with HydroGrip tensile resistant to prevent the movement of the pipes once the coupling have been installed.
This system is based on grip segments installed inside of the end rings that must be radially tightened on the wall of the pipe soon after the installation of the coupling is over.
Strengths:
• High OD tolerance
• Fully customizable
• Easy and quick to install
• WRAS approved materials
• Available from DN50 to DN3000 (or higher on request)
• Suitable on any kind of pipes (steel, CI, DI, PE, HDPE, PVC, GRP, etc.)
• Tensile resistant available on request
• High angular compensation (up to 5°)
• Up to DN1000 PN16 always on stock
• Available with nuts, bolts and washers made of A2 or A4 SS
Data Sheet
Galleria