REPAIR COLLARS, COUPLINGS, SPECIAL PIECES AND TAILOR MADE SOLUTIONS FOR PIPELINES
"IF YOU START DEALING WITH WATER,
FIRST CONSULT EXPERIENCE AND THEN REASON"
LEONARDO DA VINCI
THE SMARTEST SOLUTION FOR SMALL SIZE PIPELINES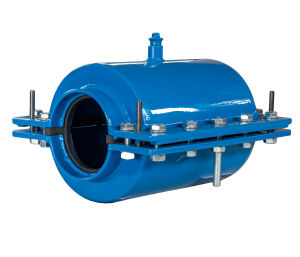 Description
General overview
This innovative product was designed to repair leaks placed on the socket, the sleeve or the wall of the small size pipes.
It is based on the Hydro Fast priciple that is why it is really easy and quick to install. It is tested to 50 bar to ensure the safest repairs on important distribution pipelines located in high density areas, such as the city centers.
Hydro Smart is suitable on any kind of pipe and is also fully customizable according to the technical specification of the Customer. It is made of S235JR electro-welded carbon steel, but it is also available made of AISI 304 or 316 stainless steel (on request).
This kind of product with a so high level of performance can be considered as a smart and strategic choice for whoever is involved in maintenance of pipelines located in strongly antropized areas where the quickness of the intervention is essential.
Due to its small size it can be installed by just one operator, that is helpful especially in tight room place.
It is manufactured using WRAS approved materials and by using only italian/EU materials.
Strengths:
• Tested up to 50 bar
• Lighter than CI alternatives
• Quick and easy to install
• High resistance to rust
• Definitive repairs
• WRAS approved materials
• Available from DN50 to DN250
• Suitable on any kind of small size pipe (steel, CI, DU, PE, HDPE, PVC, etc.)
Data Sheet
Gallery